We currently offer online classes via instagram (*).
Naturally free of charge and for each and everyone.


Times / class info on instagram & facebook & in the newsletter
# yogashala_innsbruck - yin & downtempo
#mayaprenatal - pregnancy yoga
Most importantly : Join in !
It is the yogashala community, with you in it, coming and joining classes, that make the Shala what it really is !

The income from it was and remains, though necessary, never the motivation from which the Shala originated & grew.
Should you feel the desire to do so, you can 'buy' a block of 10 & print or draw it & 'stamp it' yourself :)
It's monetary value is up to you.
Please do not transfer more than our usual prices!
______________________________________________
* Instagram Live video : To follow live classes you need to download instagram on a mobile device, sign up and follow yogashala_innsbruck. The rest is explained here
Details:
StayingSane YogaAtHome 10er
Kto.: Kira Cook
Iban: AT11 2050 3009 0102 969
If we will / can be open again, you can exchange the remaining units for the real blocks. Simply keep the transfer details.
The shala itself is closed.
With sanity returning we will be happy to offer a proper schedule again.
______________________________________________________
YogaShala Daily Classes

Timetable Overview
&
Detailed Preview
Kira & Andy teach in English :)
All classes, except marked with *, are 90 minutes
Pinch-zoom in or turn mobile sideways !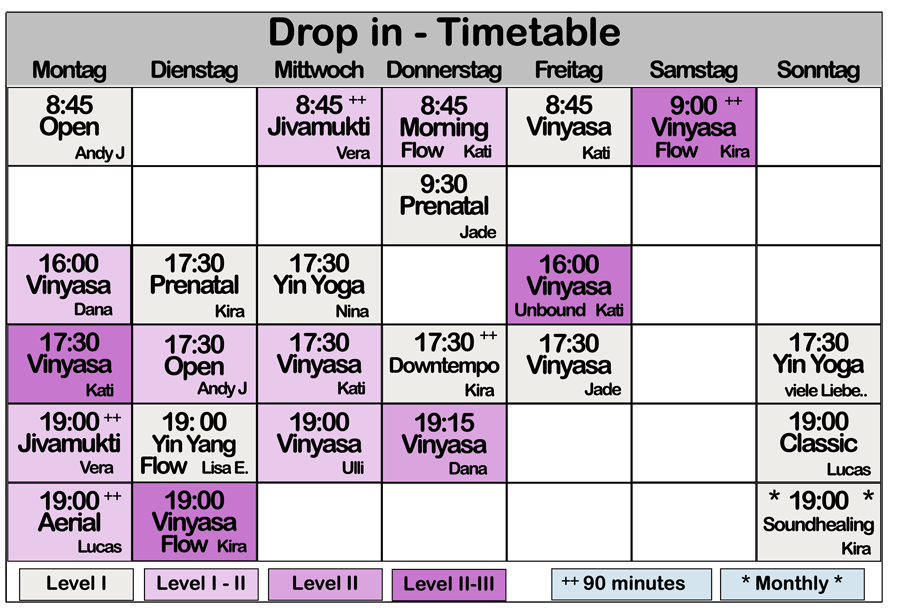 Current Changes :
Yes, we are open. Any changes would be announced right here !


The Timetable shows the regular classes,
i.e. 'what class usually is when & with who'.
Detailed changes to the schedule are below in the -> 2 Week Preview
You can directly access / bookmark the Day-To-Day plan here.