Um rechtzeitig von allen Events zu hören, tragt euch (unten) in den Newsletter ein !
oder ihr nehmt uns zu euren Facebook - Likes dazu /
For news on all events subscribe to the newsletter (down below)
or 'like' us on Facebook.
Yoga Workshops / Events / Trainings to be enjoyed :

Weitere Events & Trainings im unsren Räumlichkeiten
Dance, Body & Spirit, Moves & Movements .. :
Free Your Spirit - Cacao, Breath, Dance, Heal
Wie wäre es, den Muttertag mal anders in den Tag zu starten?

Hormon-Yoga-Workshop
mit Claudia Winkler, 9-10. Juni 2023
Dipl. Shiatsu-Praktikerin, int. Yogalehrerin (YA) zertif. Hormonyogalehrerin

In diesem Workshop lernen wir Yoga von einer anderen Seite kennen. Hormonyoga
richtet sich insbesondere an Frauen, deren Hormonhaushalt im Ungleichgewicht ist. Es
wurde von der Brasilianerin Dinah Rodrigues entwickelt. Die Übungen setzen sich aus
einer festgelegten Reihe von klassischen Yogaübungen, spezieller Atmung und
Meditationstechniken zusammen, welche helfen den Hormonhaushalt zu regulieren, die
Vitalität steigern und für mehr Ausgeglichenheit sorgen. Zusätzlich erlernen wir
Entspannungsübungen, die bei Schlafstörungen, Panikattacken und allgemeiner Unruhe
hilfreich sind.
Für wen ist Hormon-Yoga geeignet?
Frauen,

die Wechselbeschwerden wie Hitzewallungen, Depressionen, Gereiztheit

vorbeugen oder reduzieren wollen

Frauen mit Hormon-Imbalancen

(trockene Haut/ Haare, Zwischenblutungen)

Frauen mit Kinderwunsch

Frauen mit geringer Libido

Frauen ab 40, die Gesundheit und Wohlbefinden auf natürliche Art verbessern

wollen

Frauen mit PMS-Syndrom und Zyklusstörungen

Frauen, die auf eine Hormon-Ersatztherapie verzichten möchten



Kontraindikationen:
Schwangerschaft

größere Myome

fortgeschrittene Endometriose

Nach Operationen sollte generell ärztliche Beratung eingeholt werden,

vor allem nach einer Operation bei hormonbedingtem Krebs.

Blinddarm-Probleme, Herzbeschwerden
Wann
: 09.06.
2023 von 16:00 – 19:00 Uhr und 10.06.2023 von 09:00 – 14:00 Uhr (mit
Pause)
Wo
:
Antaratma Yogashala, Andreas-Hofer-Straße 13
Preis :
100 € / 95 € (Mitglied oder Studentin) inkl. Skript
Wiederholerinnen:
50 €
Anmeldung: per E-Mail direkt an Claudia:
claudia.winkler67@gmail.com
20 Years Yoga Shala Innsbruck !

Celebrate together.

Sign up with Kira per email or at the Shala

Come and enjoy some yoga (level 1) + food together to help us celebrate 20 yrs YOGASHALA!!

Bring a plate of food to share - preferably vegetarian / and or vegan/gluten free options

We will have tea / milk varieties / jams / nut butters / butter / breads / fruit salad available too

AND: IF you play a musical instrument - bring and play a spontaneous song or two during brunch
Yoga Class 10-11:30am :
The yoga will be a level 1 class
The focus will be a soft, yet energising Sunday morning wake up!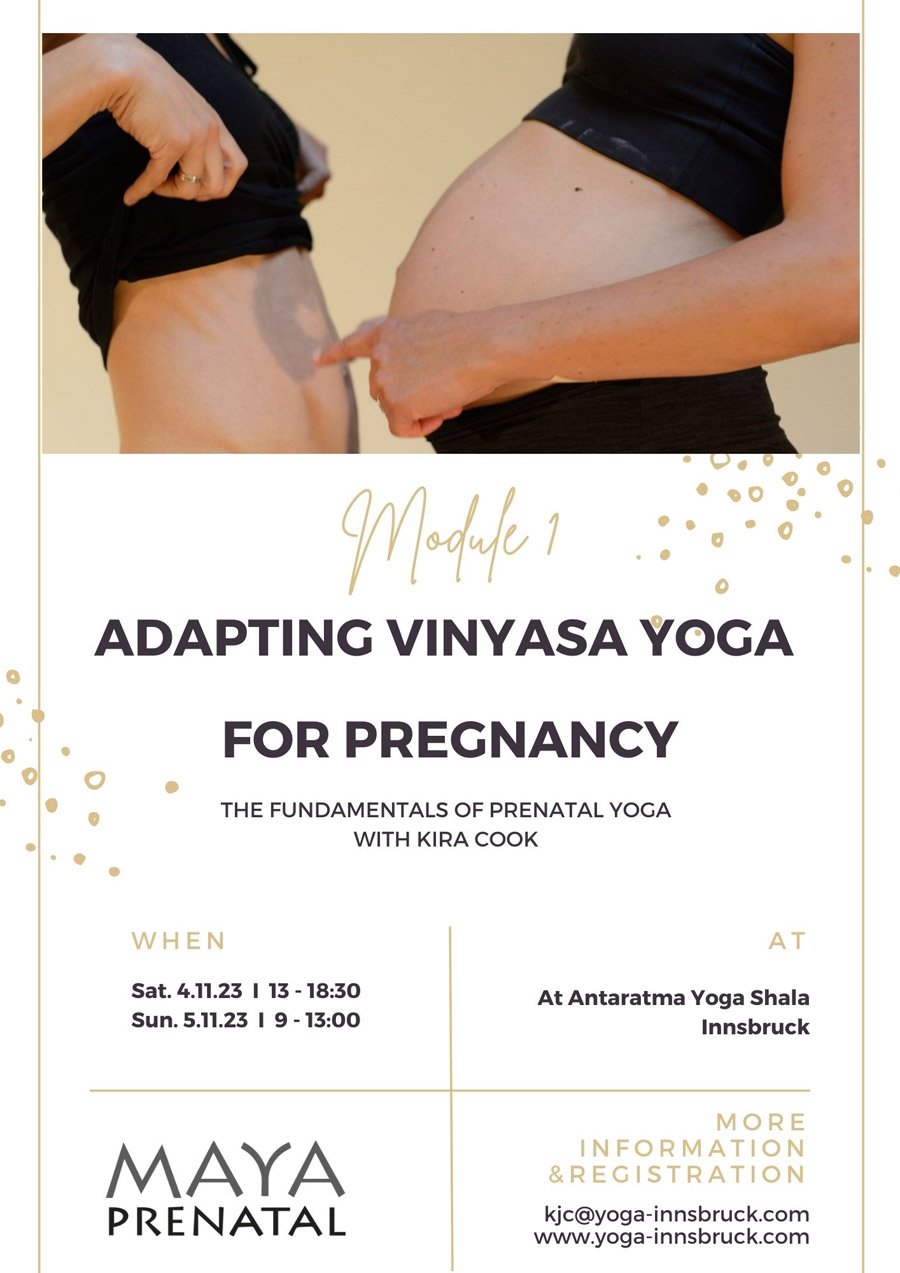 Adapting Vinyasa Yoga for Pregnancy
A Prenatal Yoga teacher training immersion - Module 1
Who this training is for :
Current yoga teachers who would like to know how to support a pregnant woman in case she turns up to your yoga class
If you are interested in pregnancy and yoga in general and would like to learn more
If you are a midwife or doula, currently practice yoga (min. 2 yrs) and are interested to learn about yoga specificially for pregnant women
Purpose of the training :
To deepen your understanding of pregnancy and prenatal yoga
To help you feel more comfortable with having a pregnant woman in your yoga class
To give you the skills to welcome a pregnant woman into your class so that she does not feel like an inconvenience
To give you a clear overview which asanas are appropriate for pregnancy
To clarify what asanas are generally inappropriate to practice during pregnancy and why
40 + page workbook
Vinyasa yoga classes adapted for T1-3
Restorative Yoga / Yin Yoga specific adaptations for pregnancy
Prenatal adaptations for classic Surya Namaskars
The Mandala of prenatal yoga asanas
Pranayama, mudras, poetry and visualisations for pregnancy
The advantages/disadvantages of attending a prenatal specific yoga classes Vs Attending an open yoga class
Appropriate and Inappropriate practices during pregnancy
A brief outline of each trimester and what is important to know for attendance in an open yoga class
Sat. 4 Nov. 2023 : 13-18:30
Sun. 05 Nov. 2023 : 9 - 13:00
9,5 contact hours :187€ , early bird 175€ with registration and payment by 29 Sept.2023
Registration & further information per email :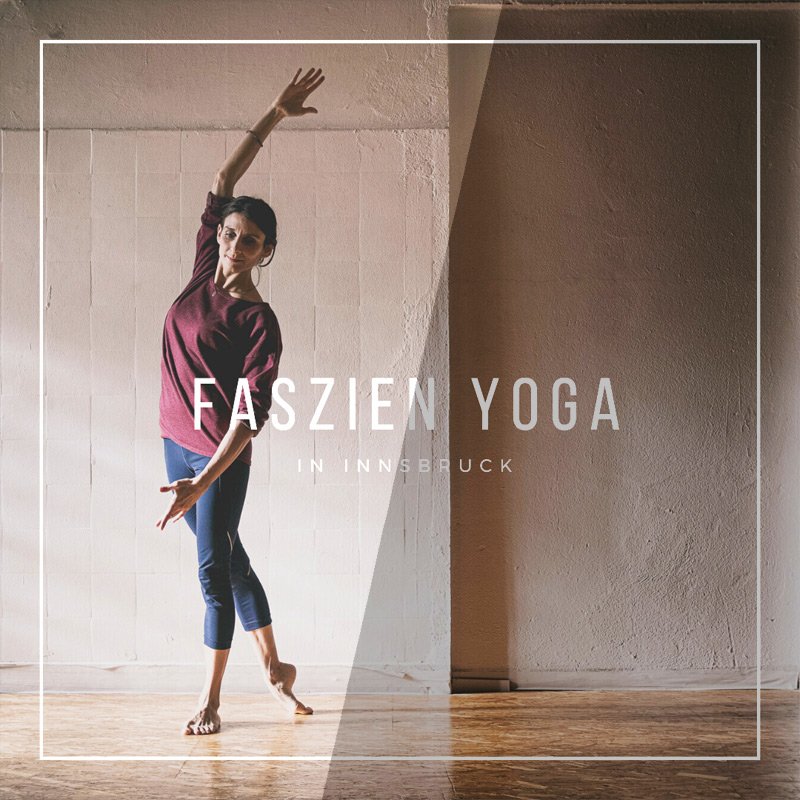 Faszien Yoga Workshop - Bündel
Sundays 18:00 - 20:00
with Jade
Faszien sind wie ein elastisches Spannungsnetzwerk. Sie durchdringen den ganzen Körper und umhüllen und verbinden alle Strukturen in unseren Körper, von den kleinsten Strukturen bis hin zu den Muskeln, Organen, Knochen und Gelenke. Bewegen wir uns zu wenig oder immer in den gleichen Mustern, verkleben die Faszien und verlieren an Elastizität. Unbeweglichkeit, Schmerzen und Verspannungen sind die Folge. Die neuesten wissenschaftlichen Erkenntnisse helfen uns, das fasziale Netzwerk in unsere Yogapraxis zu integrieren. Durch Bewegungsabfolgen und gezielte Übungen wie Dehnen, Schwingen, Federn und Rollen werden in diesem Yogastil die verschiedene Faszienbahnen angesprochen und verklebte Faszien gelockert.
TERMINE
29. Jänner 2023
26. Februar 2023
26. März 2023
30. April 2023
21. Mai 2023
25. Juni 2023
jeweils von 18:00 Uhr bis 20:00 Uhr
Weitere Events in unsren Räumlichkeiten




Dance, Body & Spirit, Moves & Movements :
Details zu weiteren Events & Trainings folgen beizeiten. :)